For Government Contractors
Do you know if you're meeting the compliance requirements for NIST 800-171? Are you prepared for CMMC?
Get on the right track which prepares to pass your CMMC assessment and maintaining your compliance
For Small Business
Are you keeping your critical data protected? Are you unsure if you are meeting business insurance requirements?
Give us a call and let us show you what aligning your technology to the requirements and a partnership with us looks like.
We deliver
technology
||
cybersecurity
||
compliance
solutions in Northern Virginia
We're IT and Cybersecurity Professionals
We partner with businesses like yours to deliver technology that empowers security, productivity, and helps your business run smoother. Through a combination of teamwork, education, and powerful technology, we help ensure your business's data is secure and help you align with cyber insurance and regulatory compliance requirements including CMMC.
Since 2017, we've been delivering positive business outcomes across many industries, and have a laser focus on making technology a powerful differentiator for businesses. Whether you're in the beginning phases of your story, or you're trying to navigate the challenging and evolving defense landscape, we have your 6, 9, 12, and 3.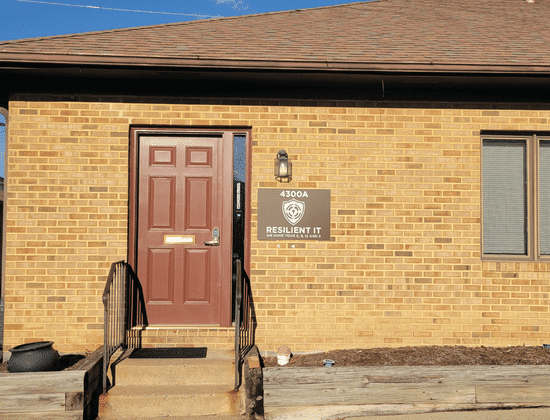 We help our customers solve their greatest IT challenges.
Here's how we do it:
Technology Assessment
We take the time to do a thorough examination of your IT operations and infrastructure to truly understand your pain points so that we can alleviate them once and for all. Our job is to listen to you so that we can cure your IT headaches and help you leverage IT to achieve your business goals.

Develop a Strategy
We'll work together to create an IT strategy that will address the root causes of your current IT headaches while planning ahead to address any concerns about the future.

Implement and Optimize
Once we've implemented your customized strategy and technology footprint, we work to ensure it remains available, performant, secure, and compliant. We're your IT partner now and into the future so that we can prevent problems before they start.
Picking a support company is not easy.  We have been lucky in that we have used Resilient IT both as an on-site consultant and now monitoring services which alerts us to issues happening in real time before issues happen, which drastically limits our down time. Resilient IT responds to my emails or service requests immediately.
Through our work with Resilient IT we are very pleased with the service they have provided us. Like many companies, IIT needs reliable and secure internal networks and Resilient IT has helped us a great deal in maintaining those properties. Specifically, Resilient IT helped us: perform a major migration of corporate e-mail; set up a new network; re-configure network devices; specify new IT products; and debug network problems, in addition they monitor and alert of issues related to our critical servers and network devices. Resilient IT has been very responsive, easy to communicate with, and flexible in how they provide service. I can highly recommend them.